The dining room lies at the heart of your home. This is why choosing dining room furniture that's right for your space is so important. As a natural extension of the kitchen, it tends to be the space where the family gathers after a long day to share a meal and where guests gravitate during celebrations and quality time. Even something as simple as catching up with a friend over coffee often centers around the table.  
The dining room should be a place that represents the deep connections made there and the unique character of your home. This is to say that choosing dining room furniture is more than just purchasing a set of table and chairs, even if it does start there. 
Let's talk tables
Creating an inviting area that works with your home requires you to think about a few essential elements. How much space do you have to allocate to your dining area? Does your table simply need to be a dining table, or does it need to be a multi-functional space? For example, do you work from home and need it to flex into office space? What is your personal style? What sort of upkeep are you willing to do?
Let's break it down into four areas of consideration: size, shape, style, and materials.
Dining Room Furniture Size
The number one rule is that your dining table has to fit your dining area! Tables are deceptively large pieces of furniture. Not only will you need to account for the space it takes up, but the walkways around it as well.
"In addition to the footprint of the table, you'll want three feet of breathing room on all sides — and more is better — to comfortably sit in a chair and move around the space,"
Lucy Harris, interior designer
Start by measuring the length and width of the area you can dedicate to the dining table. Then subtract roughly six feet from those two measurements to get a good idea of the table size you should be looking for. That six-foot subtraction will allow for three feet of space on all sides for chairs to be pulled out and manoeuvering around the table.
Dining tables come in a variety of sizes. From tiny rectangular tables for smaller living spaces and families of two to larger centrepieces that dominate a room and seat the entire extended family. Taking how the table will be used into account, you should consider how many people live in your household and whether or not you're likely to have guests over.
A two-seater dining table is perfect for a couple, while a table that seats 6 – 8 is ideal for larger families. When it comes to seating guests, we recommend going for a table that has the option of expansion. A table leaf is a great way to have the flexibility to host gatherings without taking up all that space daily. Just remember to account for the extra space needed during your calculations!
A good guideline is to figure that each place at the table will need 22 – 24 inches of table space and that larger chairs will require more than that.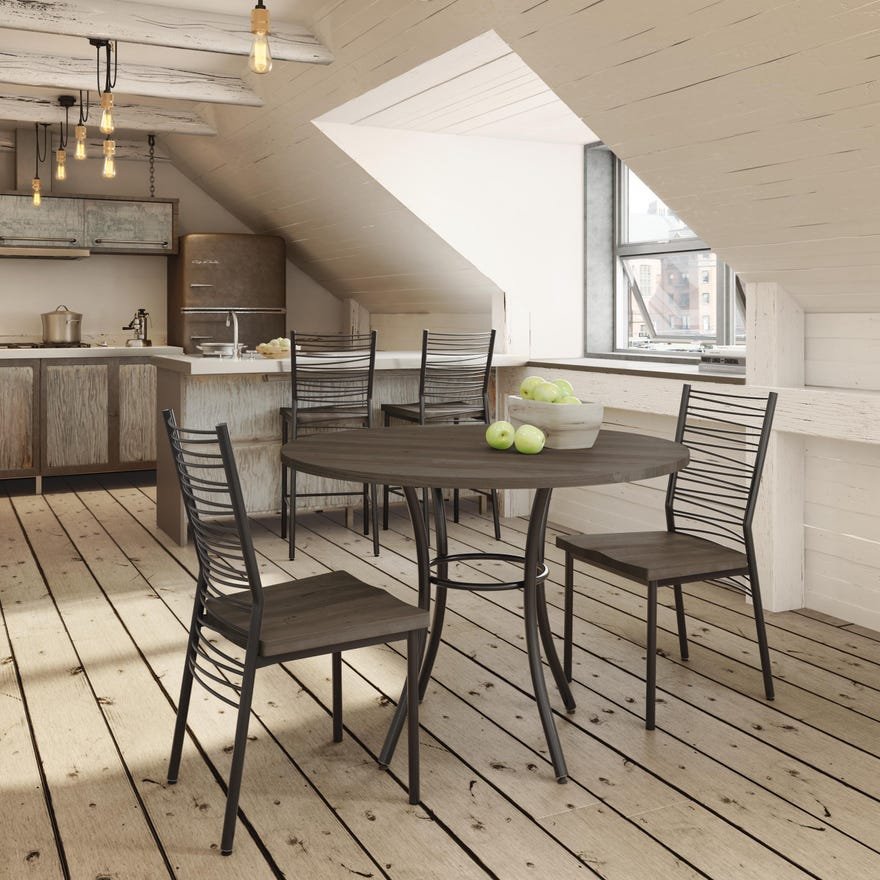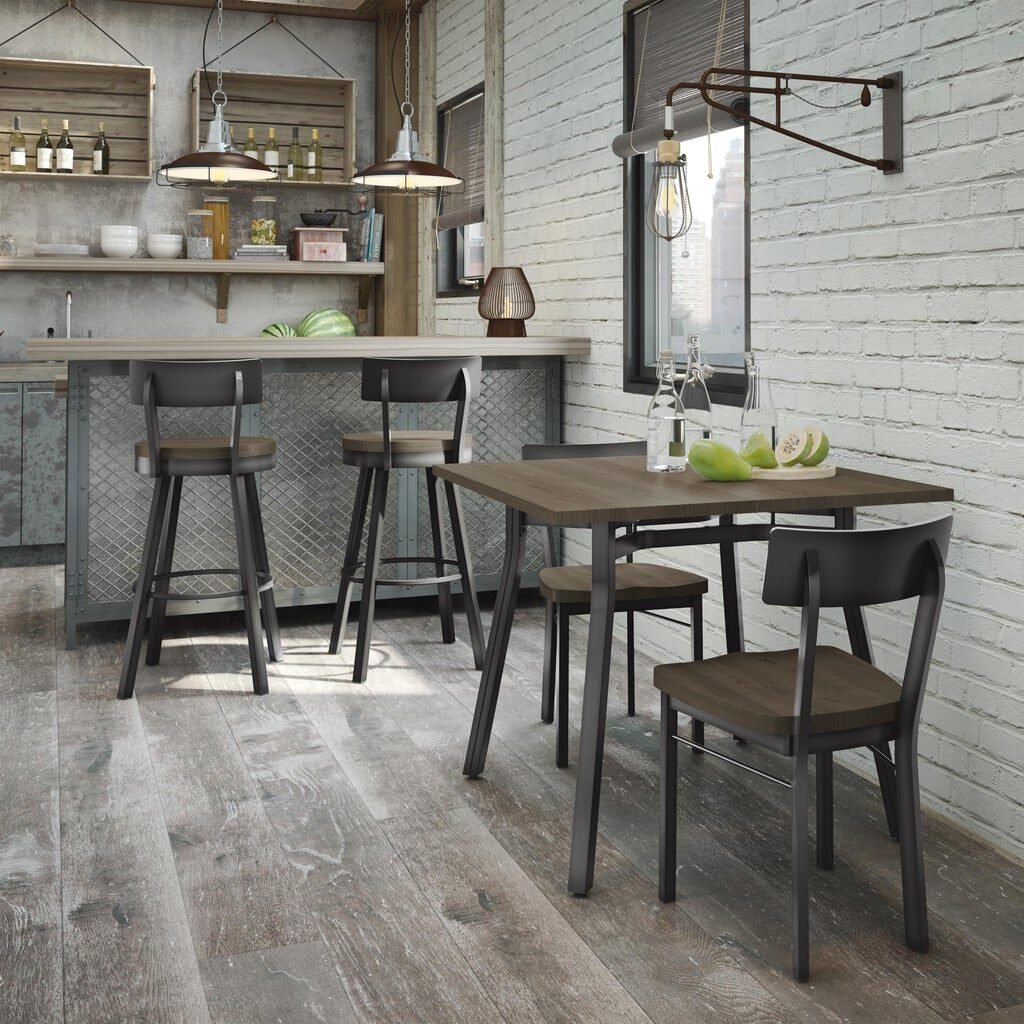 Shape
The next consideration is shape. Rectangular dining tables are both the traditional choice and can offer versatility. For example, if your table is also your workspace, you might like the additional arm support offered by a rectangular or square table. Or perhaps you prefer to have your table up against a wall when you aren't entertaining to save space.
Top tip for space-saving: opt for bench seating on one side of your table. A bench can easily be pushed under the table to save space and expand walkways in smaller rooms. They are also a great option for flexible seating throughout the home.
If you prefer a more boutique style in your dining room or if your dining area is an eat-in nook in the kitchen, then a round table might be the option for you. The softer edges can lend a nice flow to the area and, depending on your style, can either give you the cafe feeling you've always wanted or an ultra-modern look. Round or oval tables can also give you a little bit more room for movement in smaller dining rooms because you won't have to manoeuvre around corners.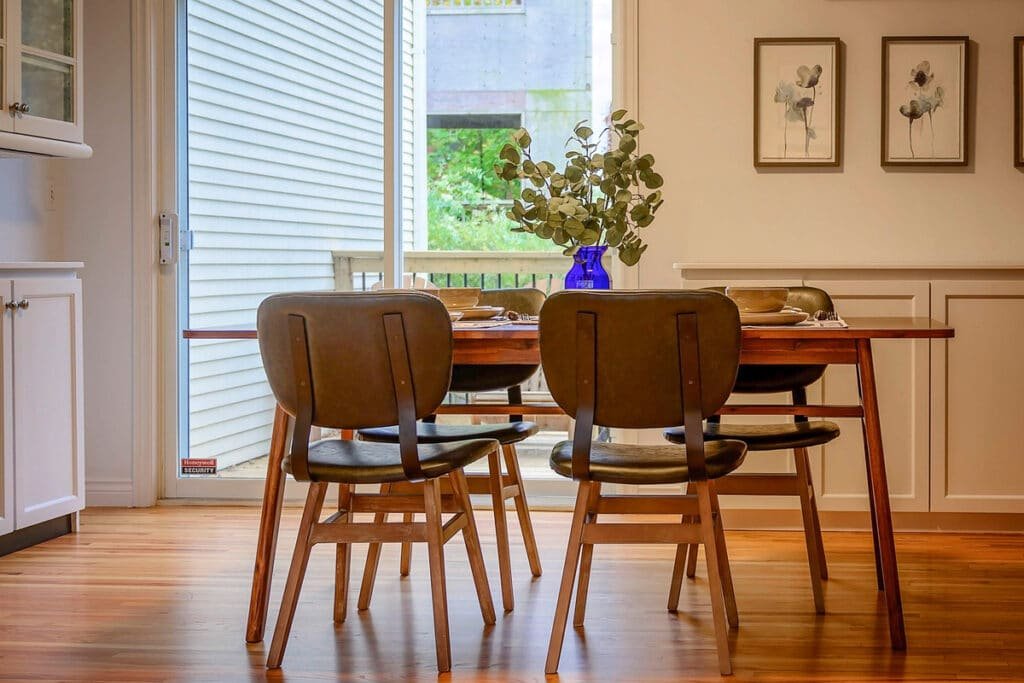 Style
With functionality taken care of, it's time for the fun part: style! How does your table fit in with the rest of your furniture choices and decor? Modern, traditional, and rustic are the most popular styles, but there are options for everyone.
To curate a modern feel, choose contemporary dining furniture with sleek lines and sharp angles made out of wood or glass with metallic accents. A glass-topped round table with metal legs is a fantastic option for this style.
Traditional styles often feature engraved wood, carving, precise textures and luxurious materials. They establish an understated richness that catches the eye and exudes a timeless appeal. Often, these are heritage pieces that can be passed down and will fit in with most households and themes.
If you prefer a rustic style, look for unpainted or reclaimed wood and strategically located metal accents for that naturalistic aesthetic. This is the perfect choice if your home is all about country charm and cozy interiors.
Overall, each one of these options has its own unique character. The best dining table for you will be one that works with your budget, is solidly constructed and will fit your space and style for years to come.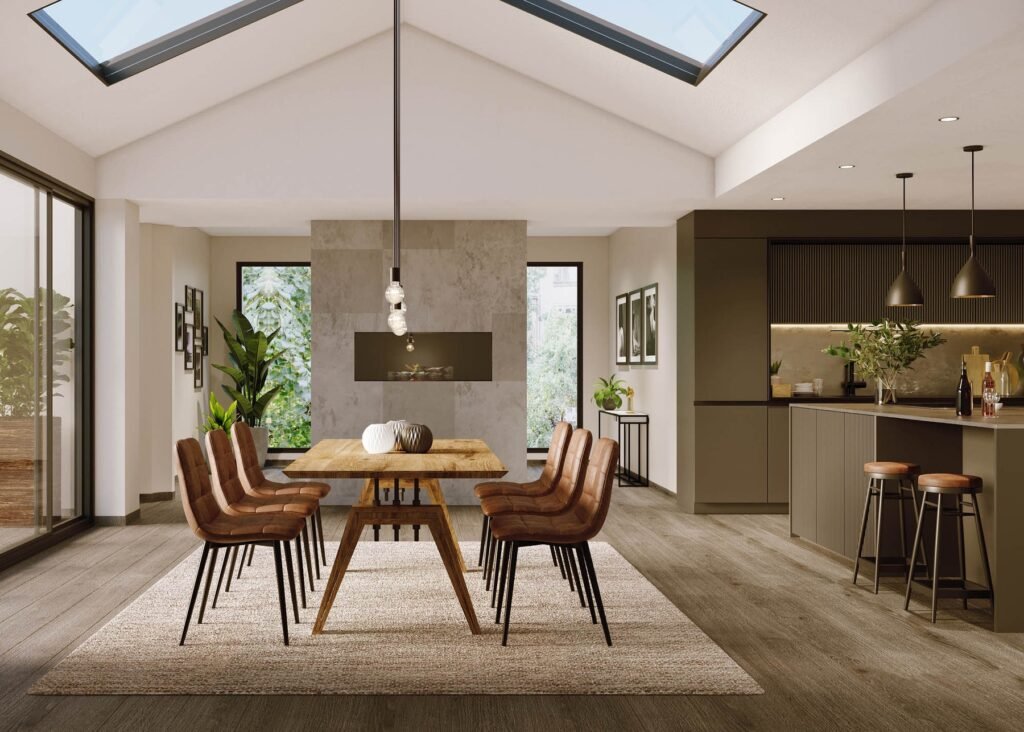 Materials 
Choosing the right material for your table can be difficult. There is a balance of cost, ease of care, and personal style in selecting the right one. Here are the most common materials and what you need to consider for each:
Solid Wood: As we've mentioned before, solid wood is a classic material because it is durable and easy to maintain. Pine, acacia, mango and teak are popular options that won't break the bank. Solid wood also expands and contracts with heat and humidity and can show scratches, but is easy to repair.
Veneer & Wood Look: A more affordable option than solid wood, a veneer is when a thin strip of solid wood (or material printed to look like solid wood) is glued to plywood or another wood core. To identify good veneers, look for clearly labelled core interiors such as kiln-dried hardwood.
Stone & Stone Look: These will include marble, quartz composite or cast stone. Though it is incredibly durable, stone can be porous and stain absorbent. You'll want to know what kind of sealant is available for your table and how frequently it will need to be reapplied (if applicable). Another thing to be aware of is that stone table tops can be quite heavy and difficult to manoeuvre.
Glass: An amazing option for creating a feeling of space and openness, glass table tops can include clear, frosted, or tinted options. Though glass is not susceptible to moisture, it can chip, scratch, or crack from heat. A good glass table top can last for decades if you aren't a clumsy person, but if you're prone to chipping or scratching then different material might be best.
Metal: Stainless steel, brass, zinc, and lacquered or painted versions of these are incredibly durable and look amazing, but can be difficult to find. Because metals are high-shine, they tend to show every fingerprint and will need special cleaning tools.
Plastic & Laminates: These materials tend to resist staining and chipping and require little upkeep. They are man-made and are either moulded into a shape or glued onto a wood core and are typically an inexpensive option.
Dining Chairs
Most dining sets come complete with chairs that are both functional and flow with the aesthetic of the table. The key piece to take note of is comfort.
If you tend to eat at the table every night or frequently host guests, then comfortable dining chairs are essential to your experience. When looking for the perfect chairs, here are a few things to think about: 
Do you want arms on your chairs, or do you prefer them to be armless? How high do you want them to be? Are there any children or older generations in your life who may have difficulty with taller seating? How much back support are you looking for? What level of formality do you want?
As previously mentioned, if you have a smaller space or prefer a more relaxed setting, consider using dining benches instead of standard chairs. Seating arrangements can be made flexible by arranging these on both sides of the table or just on one side.
Alternatively, if you prefer to curl up and settle in, then dining armchairs are perfect. When it comes to style, the options are myriad. You can choose something as formal or informal as you like with options such as wood, rattan, or metal.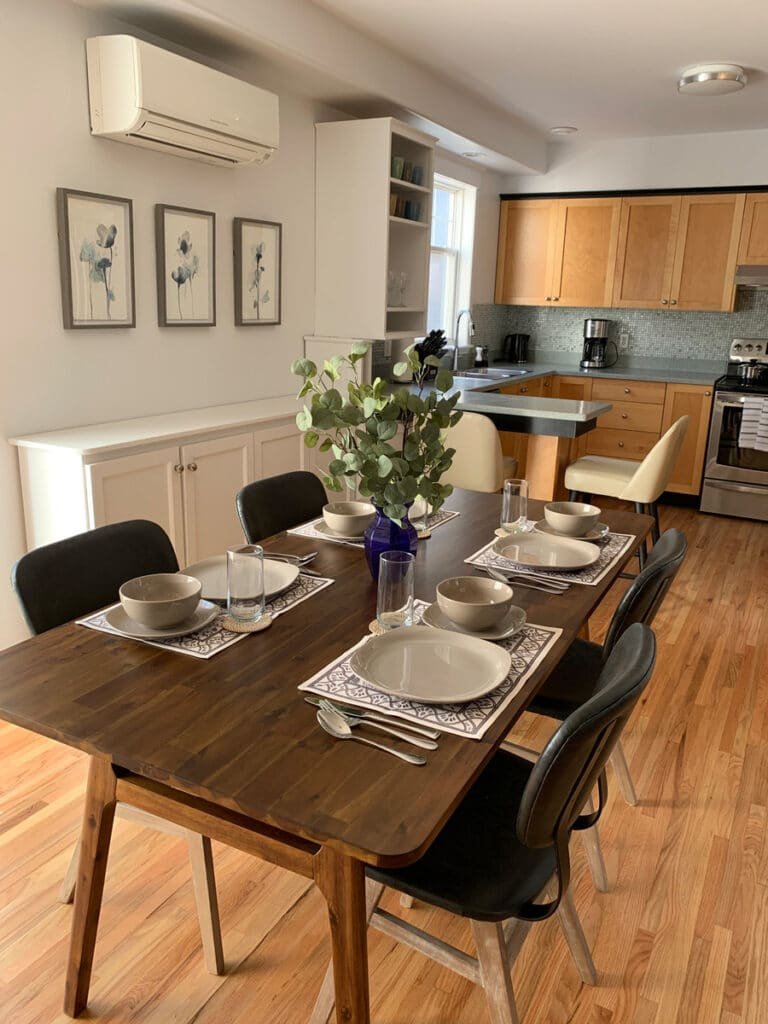 Bar Stools
If your dining space is a kitchen island or a taller bar table, or if a dining table and chairs just do not mesh with your lifestyle, stools and bar stools are a fantastic alternative.
Bar stools are incredibly versatile and can create a more relaxed, informal atmosphere in your home. Loved ones perch on them to chat while we cook, we slide onto them with our morning coffee, and kids settle in to wax poetic about their passions. Stools fit seamlessly into living spaces and invite the people in our lives to comfortably engage wherever they are. 
If your bar stools will only be used occasionally, a simple wood or metal seat works beautifully. They are easy to clean and provide ample support while fitting in with most decor styles. If you use them for work or just to settle in for a long conversation, then you might want something with more cushioning.
Fabric choice also matters. Leather is durable and generally friendly to being wiped down. Linen is more breathable and will stay more temperature neutral year-round. Suede or velvet will require more upkeep but will give an unrivalled air of luxury. Suffice to say, there is something for everyone.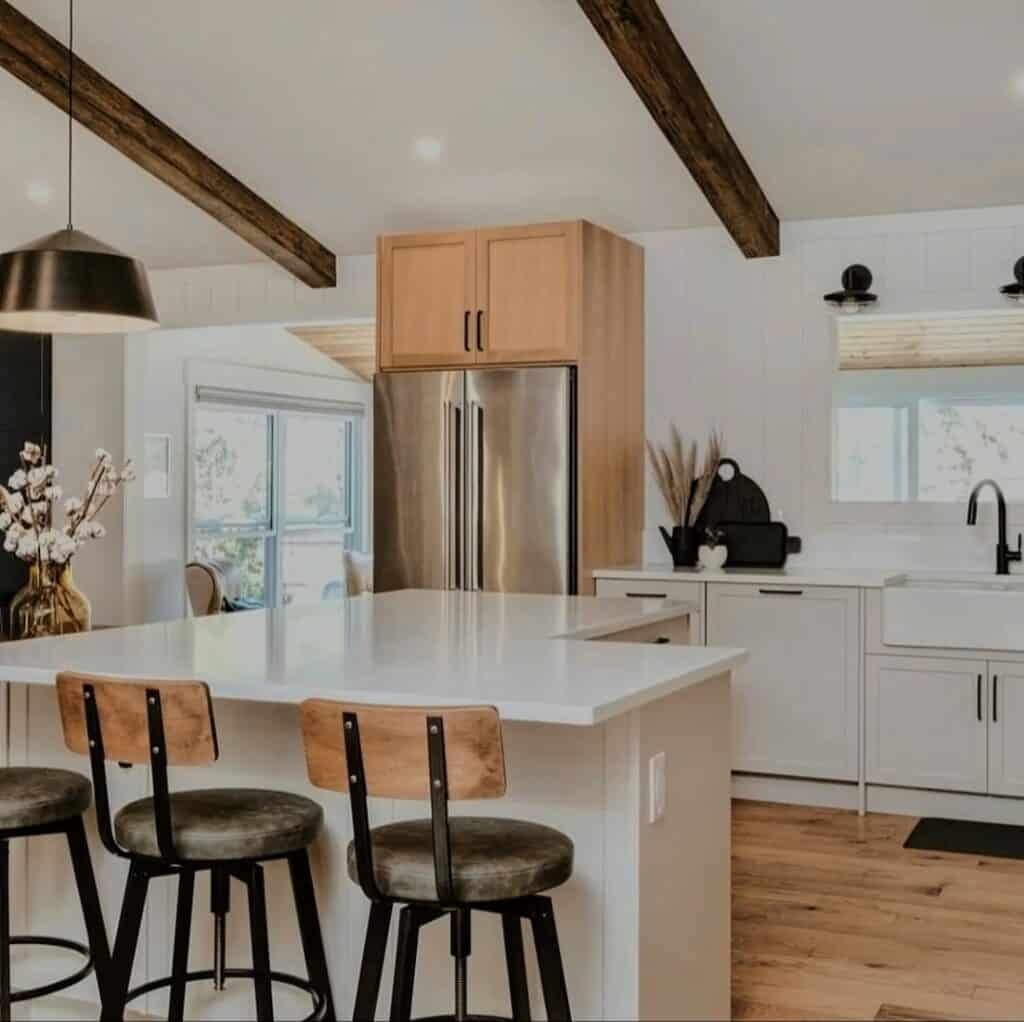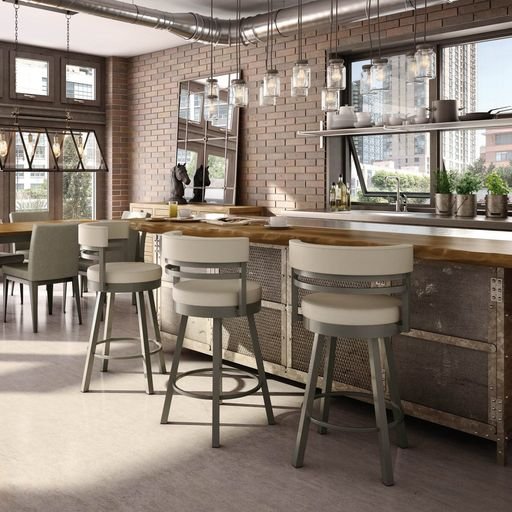 Don't forget to enjoy the process of choosing dining room furniture!
Choosing dining room furniture can be a stressful experience, but it doesn't have to be. This is an opportunity to curate your home and express yourself, so don't forget to have fun! 
Do you have questions about what to look for while shopping for the dining room? Let us know in the comments.