There are five basic types of lighting
Natural lighting – also known as daylight, this is the light that enters your home naturally during the daytime. While direct sun shining through your windows will cause fading of natural wood and fabric surfaces, and can also damage fine art, natural light can also be indirect.
Ambient lighting – also known as general lighting, usually this is the light attached to the light switch or dimmer. This is typically overhead lighting such as recessed/pot lights, fans with lights, chandeliers, etc.
Task lighting – these are lights that add brightness for something specific like reading, working at a desk, prepping food in the kitchen, etc. Table lamps and floor lamps fall into this category.
Accent lighting – also known as focal lighting, this light is used to draw attention to something or highlight it. You might want to focus light on a painting or sculpture. This can be in the form of directional track lighting, lights inside cabinets or niches.
Decorative lighting – this is a way of using lighting as decor, it doesn't need to be useful, it's just to add touches of elegance to a room. This would include buffet lamps on a sideboard.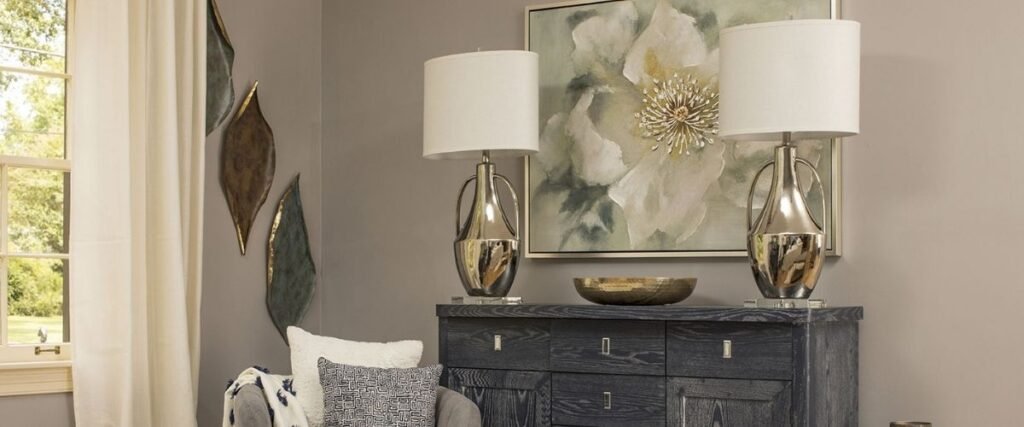 How do you pick the right lamp?
There are countless decisions you need to make when decorating your home, and often lighting is the last thing you add to a room. This is fine because there are some measurements and requirements you need to have in mind order to choose the right lamp for your space.
What are you trying to light up?
You can significantly narrow your choices by knowing the function of your lamp. What kind of wattage do you need? Is it a bedside table lamp for reading, a floor lamp by the chair you like to knit in, or perhaps a directional lamp at your desk or sewing table.

3 Things to consider when choosing a table lamp
1. Line of Sight – Height of your lamp
When choosing a table lamp, you need to know the height of the table it will be sitting on, and the height of your eye level when you're in your chair or on your sofa. This will give you a measurement to make sure that the bottom of your table lamp shade is roughly at eye level when you're seated. This ensures that you won't have to worry about the glare of a light bulb when you are sitting down to work, read or hang out on the sofa with friends. This is also the prime height to shine direct light on the pages of your book, or your knitting while you're seated.
2. Choose the right lamp relative to the table it is on
Before shopping for table lamps, measure the height and circumference of the tables they will be sitting on. To look right, make sure your table lamps are no more than 1 ½ times the height of the table, and that the shade doesn't overlap the edge of the surface. If you are putting lamps on end tables, create balance by making sure the diameter of the lamp shade is at least half the width of the table. For long console tables and sideboards you can choose pairs of taller lamps because they are more for decor than to light a task. Desk lamp are usually chosen for function over form, but do take into consideration the size of the desk and any decor on the wall behind it.
3. Choose the right lamp based on stability
In high traffic areas you should be somewhat concerned with the stability of your table lamps. Tall thin lamps will tip over easier than lamps with shorter, heavier bases.
For more inspiration when choosing the right lamp, check out Stylecraft's Virtual Showroom.