Max Jacquiard (1934 - 2022)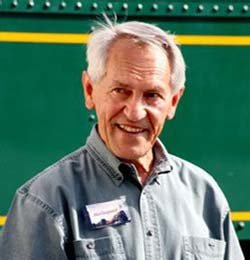 It is with great regret that we announce the death of Max Jacquiard; he passed away at the end of 2022. Max was a celebrated steam train artist; his original works adorn the executive offices of Canadian railway executives, and there are hundreds of his collectors and fans across Canada. In 2006, he was inducted into the Canadian Railway Hall of Fame.
Born on May 19, 1934 in FlinFlon Manitoba, Max Jacquiard was a resident of Coquitlam B.C., Canada, and became one of the most respected artists in Canada for his ability to capture in his paintings the visions of the steam trains of bygone days.  Since 1982 Jacquiard exclusively painted steam trains.  Looking at his work takes you back to a time when boys would watch in awe as these metal giants passed.  "It was steam trains when I was a kid, I loved to watch them."
Jacquiard owned a sizeable research library of printed materials, photos and slides of steam trains and the places they would have operated.  It is that attention to precise and accurate details that can be seen in his paintings.  The sensitivity to his subject and quiet passion that is infused into each work seemed to allow Max Jacquiard to breath life into the canvases.  The images he created have captured the imaginations of steam buffs across Canada and the United States.