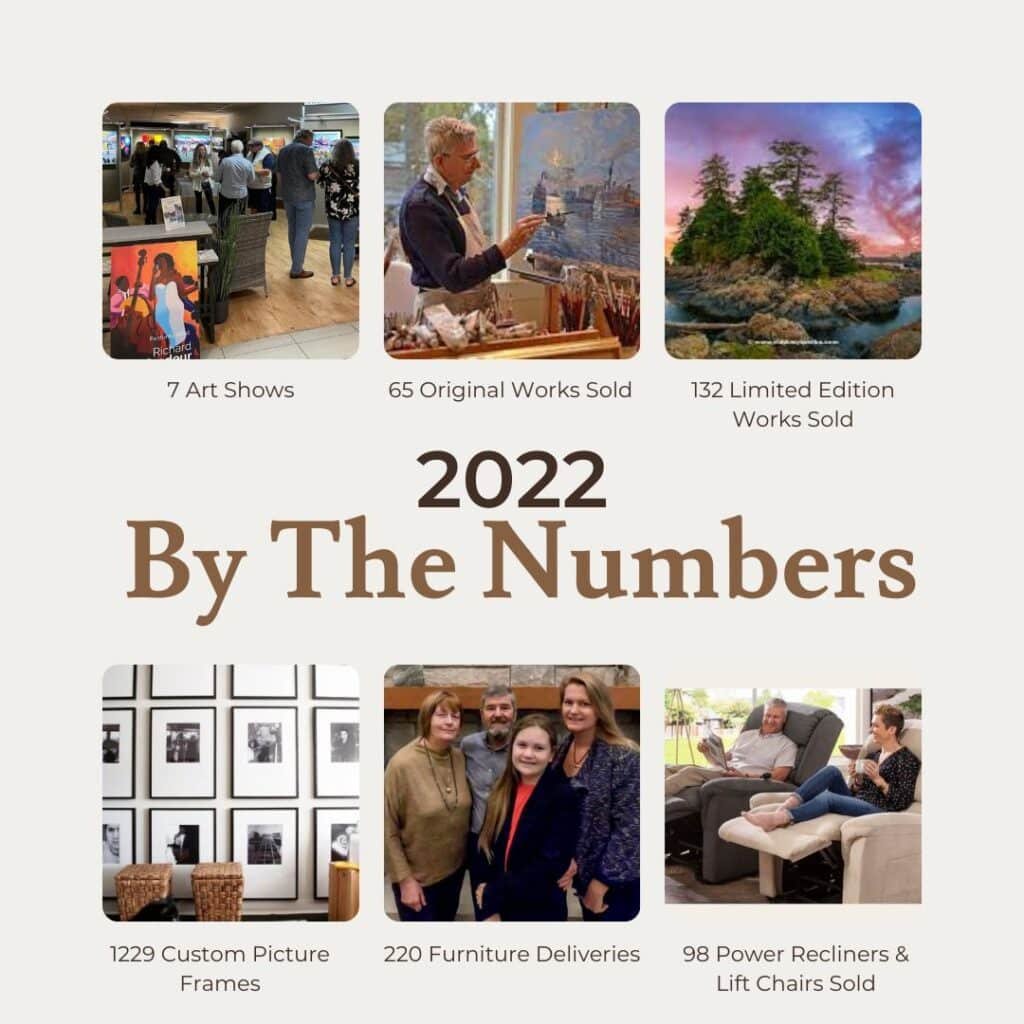 Some reflections on 2022…
The calendar may have moved to January 2023 but I am personally still processing our most recent trip around the sun. As appreciative as I am, I never want to take any of this for granted. I have so many things, both personal and professional that I am grateful for.
Grateful for our customers who choose to deal with a small family-owned and operated brick and mortar store instead of shopping online.
Grateful for our amazing sales team and framing team who continue to teach us so much about furniture retail and custom framing, and who create fiercely loyal customers by delivering legendary customer service.
Grateful for our marketing team who work so hard at helping us achieve our goal of becoming the most trusted and well-known source for original art, custom framing, and high end furniture in the area.
Grateful for our fantastic artists who trust us to sell their sensational original paintings and show up so authentically for our customers at the art shows.
Grateful for the interior designers who make our job of furnishing and decorating our client's homes even easier!
Grateful for our suppliers who continue to produce the high-end, elegant furniture our customers love.
Grateful to continue our relationship with Variety The Children's Charity and their program to fund autism assessments.
Grateful for our friends and family who continue to support us along the way.
By far, our biggest professional win was growing our company and having 7 fantastic art shows. In May, we opened a second location in the mall because Elran, our motion furniture supplier in Montreal, was shipping us a lot more power recliners than we had room to display. We thought it was going to be a temporary showroom, but soon realized it was a great venue for pop-up art shows featuring the artists we represent in the main gallery. We bought a set of professional, lighted art panels and kicked off with a Brent Heighton and Jonn Einerssen show and finished the year with a Square Foot Show featuring 14 artists.
Happy New Year!