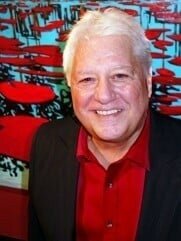 Many Canadians will remember King Richard, as the exceptional goalie for the Vancouver Canucks, but what they may not know is that Richard Brodeur is also the force behind the popular: "My Childhood Hockey Memories" paintings. His folk art style features whimsical and nostalgic scenes of Canadian kids playing hockey on outdoor ice in quaint neighbourhoods and country villages. Nostalgia can also describe his "post-impressionistic" landscapes which capture, in brilliant colours, distinctly Canadian scenery.
Born and raised in Quebec, Brodeur spent many a winter's day (and night) playing street hockey, or hockey on homemade rinks.  He ended up spending 17 years making a living on the ice playing for the Quebec Nordiques, the New York Islanders, the Hartford Whalers, and of course, the Vancouver Canucks.
He began sketching in high school, so after retiring from goaltending at the age of 37, it was a natural fit to return to his passion for art.  Painting didn't immediately become his full time gig, however.  For a few years he worked as a brewery sales agent and a Vancouver hotel manager.  The urge to paint full time grew stronger as Brodeur got older.  He now lives in Nanaimo, and spends his time lovingly depicting his childhood memories on canvas.
"I was four years old, and my dad used to do a backyard rink, and that's where we started playing," Brodeur told CBC news about his joyful paintings of children playing on home made rinks in quaint Quebec villages.
Former Canucks goalie Richard Brodeur finds happiness creating art.
Check out the video below from a storyteller exhibition Richard participated in.