The leaves are turning from green into a riot of colour, and the summer warmth is fading into the crispness of cooler weather. Fall is here, and we're delighted. Whether you're an avid decorator with bins of seasonal decor waiting to be pulled out or just someone looking to add a little autumnal charm into your living space, we've got the sweater weather inspo that will help you bring that seasonal coziness into every room in your home.
Rich, Earthy Colour Palette
2023 is all about a neutral aesthetic that is both soft and inviting, and that makes this year's it colour especially perfect. Honey is everywhere this season, from fashion to hairstyling to home decor. Honey can be a pale, almost transparent gold or as dark as amber. Those deeper, moodier tones are perfect for fall. Pair it with chocolate brown, mossy green, and caramel for a modern update to a classic fall palette.
Honey isn't the only standout colour choice this fall. Interior designer Nancy Evars suggests incorporating a pop of blue into your palette. She notes that people are looking for less and less gray and are gravitating to browns and blues paired together. If bright pops are intimidating or feel out of season to you, Evars suggests a deep navy, which is sleek and doubles as a neutral backdrop for more vibrant shades.
Another colour trend we're seeing a lot of for 2023 is black. Social media is awash with people painting black accent walls, doors, ceilings, and windowsills with stunning results. If you're feeling adventurous, grab your roller and paint it black! If paint feels like too big a commitment, use hits of black to punctuate your existing decor. Black candlesticks, lamps, and picture frames are all easy ways to incorporate a timeless shade that's having another trending moment.
Sustainable Textiles
Swap out lightweight summer linens for heavier, textured fabrics like wool or flannel in your throw blankets, pillows, and curtains. This change can instantly transform the ambiance of any room, making it feel snug and inviting. Instead of opting for classic seasonal hues and patterns like mustard, forest green, or Buffalo plaid, invest in higher-quality, evergreen neutrals that can transition into your holiday decor throughout winter and then work overtime into early spring.
Candlelit Warmth
As the days get shorter and the evenings grow cooler, there's nothing quite like the warm, flickering glow of candles to create a cozy atmosphere. Update your scented candle collection to include new scents that evoke the essence of fall. We love pumpkin spice, cinnamon, or apple cider. Place them strategically around your home to create a soothing, autumnal ambiance.
If you have children or pets or are safety conscious, electric candles can be a fantastic option for creating that same warmth without any accompanying danger. Pair them with a sophisticated autumnal Lampe Berger favourite to have your home smelling like a cozy dream. Our fall picks from Maison Berger are Sandalwood, Amber, and Cedar.
Pumpkin Spice Everything
Is it even fall if there aren't any pumpkins? From those adorable mini gourds at the farmer's market to larger-than-life pumpkins at the pumpkin patch, these versatile vegetables can be used in countless ways. Create a stunning pumpkin display on your porch, or use them as table centrepieces.
If carving isn't your thing, consider painting them. Pumpkin painting is trending on social media right now, so head on over to your favourite app to do some research! Instagram, Tiktok, and Pinterest are our top three picks for aesthetic inspiration.
Harvest-inspired Homes
Nesting season is all about creating an ambience that makes you and your guests want to settle in and get comfortable, so whether you're hosting a family dinner or simply want to add some cozy vibes to your space, a well-curated tablescape can be a gorgeous way to set the tone. Incorporate elements like table runners in luxurious colours or textures, elegant dinnerware, and themed centrepieces featuring fall botanicals or those itty bitty little gourds.
Another great way to bring the harvest home is to bring a piece of the outdoors inside by incorporating natural elements into your decor. Collect colourful leaves, pinecones, and branches to add to your tablescapes or create wreaths and garlands to spruce up your front door. These elements can be easily integrated into your decor, adding an authentic touch to your home.
If you're not interested in roaming the forest in search of the perfect pinecone, visit GS & Co in-store to browse our selection of faux botanicals and create a custom decor moment that you can use for years to come. Our in-house floral designer, Jenny, is in store three days a week to help you design your perfect floral arrangement.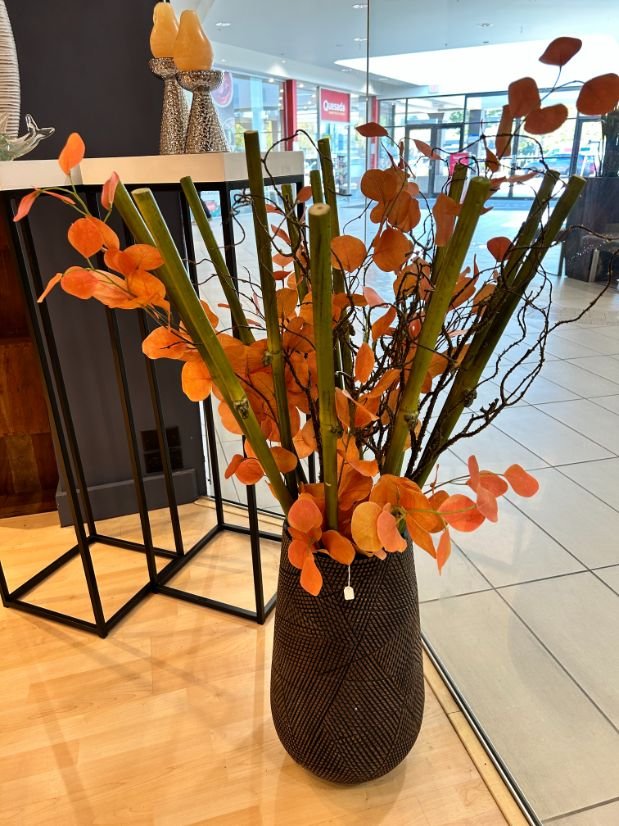 2023 is all about individuality
Fall decor has something for every aesthetic imaginable. Light academia. Dark academia. Spooky, gothic decor. Rich, saturated, vibrant harvest tones. Cozy neutrals. Whatever your fall decor favourite is, it's time to grab a PSL and let the creativity flow. Which trends are you taking advantage of this year?