Art framing terminology can be daunting: matting, mounting, float frames, spacers, shadow boxes! Keeping it simple isn't always easy if you aren't sure how to articulate what you're looking for when you get custom-framed art. Ilda, one of our custom framing experts here at GS & Company, is here to help. With 18 years of custom framing experience, she has worked with a wide variety of pieces, from artwork on paper to wedding gowns and war medals.
Choosing a frame moulding
When we think of a picture frame, we think of the moulding that physically frames the art. When choosing your frame moulding, it's important to remember that a frame's purpose is not to distract from its contents but to subtly enhance them. Our experienced framers can help you to select a frame moulding that balances the size and visual weight of the art with the thickness of the moulding. There are several ways to execute the presentation of your art within the frame.
Dry Mounting
Dry mounting involves adhering an image or photograph printed on thinner primary supports (such as photo paper) to a thicker, sturdier secondary support (like cardstock or mat board) with an archival adhesive.
Q: "What sort of artwork is this a good technique for?"
A: "Dry mounting cannot be undone because the adhesive used during the process creates a permanent bond, so I usually recommend using this technique on things like pictures and posters that can be easily replaced because of that 1% chance that the work may be damaged. There are, of course, exceptions. One that comes to mind is a water-damaged piece that a client was willing to take a chance on. Dry mounting smoothed out the ripples in the paper that the water damage caused and improved the look of the piece."
Float / Insert Mounting
This method of framing is called "floating" for two reasons. First, we attach your fine art print to an acid-free foam core hidden behind the work. It is then mounted to a supporting white mat-board or foam core which is typically 1.5 inches larger. A spacer is then used to create a space between the art and the glass. The result is a look that keeps your art "floated" in the centre of the frame. The foam core lift's depth adds a slight shadow around your art, drawing extra attention to what makes it special.
Matting
A mat is a heavy paper-based material that sits over the top of the art with an opening cut out to allow the art to show through. The simplicity of this mat ensures that your frame design and fine art print will look just as timeless now as they will years down the road. Playing around with the size and scale of your mat is a fantastic way to add a little bit of drama or curate an understated look, depending on the chosen dimensions.
Q: "When would you recommend float matting instead of matting? Does it have to do with something specific about the artwork, or is it personal preference?"
A: "It mostly comes down to personal preference and the style of the piece being framed. For many pieces, matting over top of the art can look cleaner and enhance the look of the artwork. It also has the added benefit of preventing the glass from touching the artwork, which is important if, like many people, you spray the glass with Windex and wipe it down. That liquid can seep under the glass at the edges and stick the art to the glass, which will ruin your piece. Speaking from personal experience, don't spray your framed pieces!"
Q: "Uh oh! I'll have to keep that in mind next time I'm cleaning. Tell me a little bit about when you would recommend float mounting?"
A: "I see float mounting a lot when a client wants to see the edge of a piece, like the raw edges of papyrus or an old letter. It looks beautiful and is a great way to display pieces like that. I always tell people to consult their framer before requesting float mounting just because it involves the use of an adhesive and may or may not be easily removable. "
Hinge Mounting
'Hinging' is traditionally (and still broadly practiced today) an alternative method to insert/float mounting.' The framer uses archival tape to adhere the print to the backing board instead of dry mounting the entire piece down flat. In other words, "hinge mounting" is framer terminology for mounting artwork by suspending it with tabs of tape. With the use of tapes designed for hinge mounting, hinge mounting is considered a sound archival method and can be used to preserve unique artwork, such as original art on paper or limited-edition prints.
It's important to be aware that once your piece is dry mounted, it cannot be unmounted and rolled away.
Q: "When I hear 'archival method,' I think, oh, that's for museums, but it's more than that, isn't it?"
A: "That's a common misconception. Archival means that a piece is being framed so that it will be protected for years to come, meaning that the products used are acid-free and the glass offers UV protection. It's for anything you would want to see preserved, whether that is investment art or something dear to you like children's artwork or important photos."
What is a spacer?
A spacer is a wood, plastic or mat board riser used to separate artwork on paper or photographs from the glass when a mat isn't used.
Q: "Tell me more about the use of spacers. Would that be best used for art with a lot of texture for framing something like a jersey or something else entirely?"
A: "In short, spacers keep the glass from touching the artwork. We only use plastic spacers if the piece needs more of a spacer than matting can provide. They would be used for works that are textured but still lie fairly flat. A jersey would need a shadow box."
What is a Shadow Box Frame?
A shadow box is a specialized frame that was developed as a way to display three-dimensional objects. A larger spacer, almost the depth of the moulding, creates the necessary depth to hold the item being framed. The height of the moulding will determine the results.
Q: "What sorts of things have you created shadow boxes for in the past? What kinds of items are good candidates for that form of display?"
A: "What haven't I put in a shadow box! I've done war medals, wedding gowns, baptism dresses, memorabilia from the second world war, pocket watches, and pet collars. Even larger items like fishing rods and golf clubs! It's a great way to celebrate those cherished memories rather than just having things sitting in the garage. "
Floater Frames
The floater frame sits away from the edge of the stretched canvas or artwork by one-quarter inch. This allows the artwork to be viewed in its entirety while giving it the illusion of floating in the frame. This method of framing is a beautiful, modern way to present stretched linen prints and paintings on canvas or panels.
They don't require glass, and due to their simple nature, they can help give your artwork a finishing touch while allowing the texture of the artwork to speak for itself.
What type of glass is best for you?
There are several choices available when it comes to the type of glass. What is important in your selection is the benefit offered by each type. Whether you're selecting art for a curated collection or have sentimental pieces you want to preserve in the long term, the protection and display properties of the glass is an important component. Over time, exposure to indoor and outdoor UV light contributes heavily to the fading and deterioration of artworks. From UV protection to optics, there are a few things to consider when discussing glass selection with your framer. The GS framing studio offers several options when it comes to glass:
1 Conservation Clear Glass
This is the default option for most framers. Conservation Clear glass effectively blocks up to 99% of UV light rays to protect against fading and helps preserve the original colours of your artwork for longer. Think of it as sunscreen for your art that is created using a proprietary coating process where an inorganic silica-based UV inhibiting coating is permanently cured onto the surface of the glass.
2 Museum Glass
Museum glass is the best glazing option available on the market for art and photography. Its anti-reflective, almost invisible finish also effectively blocks up to 99% of UV light rays, helping your framed pieces to remain clearer and brighter for as long as possible.
The method of creating this glass uses both the coating process that permanently cures inorganic silica-based UV protection to the surface and the Magnetron Sputtering technology that layers highly energized metal oxides onto the glass substrate. The use of both techniques results in the most attractive and protective display option for all works of art, with the added benefits of being easily cleaned and ripple-free.
3 UltraVue Glass
This high-quality, anti-reflective glass provides a 70% UV procession and is optically coated to create a nearly invisible finish. It is easy to clean and incredibly durable due to its proprietary coating process, which involves depositing precisely controlled layers of highly energized metal oxides onto a 2.0 mm water white substrate to produce this glass.
4 Optimum Museum Acrylic
A glass alternative, this state-of-the-art acrylic product provides the same 99% UV protection as Museum Glass and uses the same Magnetron Sputtering technology to create a nearly invisible surface. It is half the weight of glass and is shatter-resistant while also being anti-static and resistant to abrasions.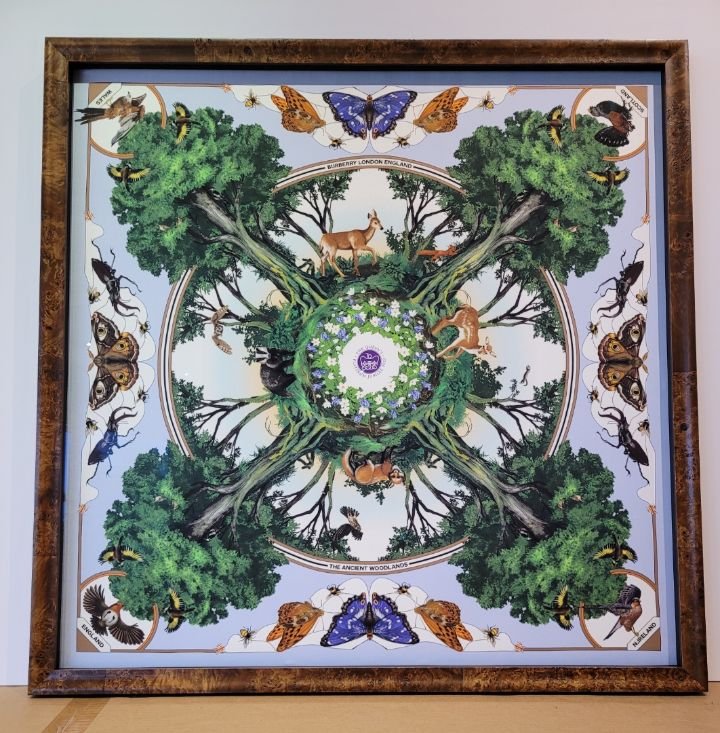 Canvas Stretching
Lastly, we offer canvas stretching. Using the tools of the trade (mallet, stretching pliers, staple gun, etc.), a canvas stretching professional very gently, firmly, and uniformly pulls the canvas into perfect alignment with the stretcher bars. An improperly stretched canvas will appear misshapen and may have waves or ripples that become more pronounced over time. A properly stretched canvas is taut and has perfectly folded and affixed corners. Stretching a canvas takes time and patience, but the finished product looks amazing and will last.
Our framing experts are here for you
Whether you want to frame a piece of art, a handwritten recipe from your grandmother, a work purchased in-store, or your wedding flowers, our framing expert is here to help you showcase and protect the longevity of your piece in a custom frame of your choosing.
Come in and talk to our framing experts at GS & Company in the Semiahmoo Shopping Centre, or at our Custom Framing Studio in Campbell Heights.