For many of us, the last year hasn't afforded many opportunities to spruce up our spaces. Now that you've done your spring cleaning and summer is here, let's take advantage of the season and refresh your space!
Fun with foliage
While you can certainly use real plants and flowers, faux options are also great for keeping your space green year-round. These include permanent plants and trees; faux vines and greenery; and high-quality silk flowers. This faux fiddle leaf fig (pictured) is a beautiful example of how to incorporate foliage into your space in an impactful way. We love the beauty of greenery without the worry of watering schedules and leaf drop!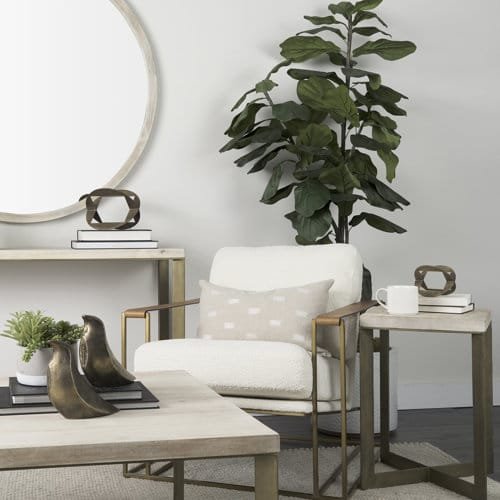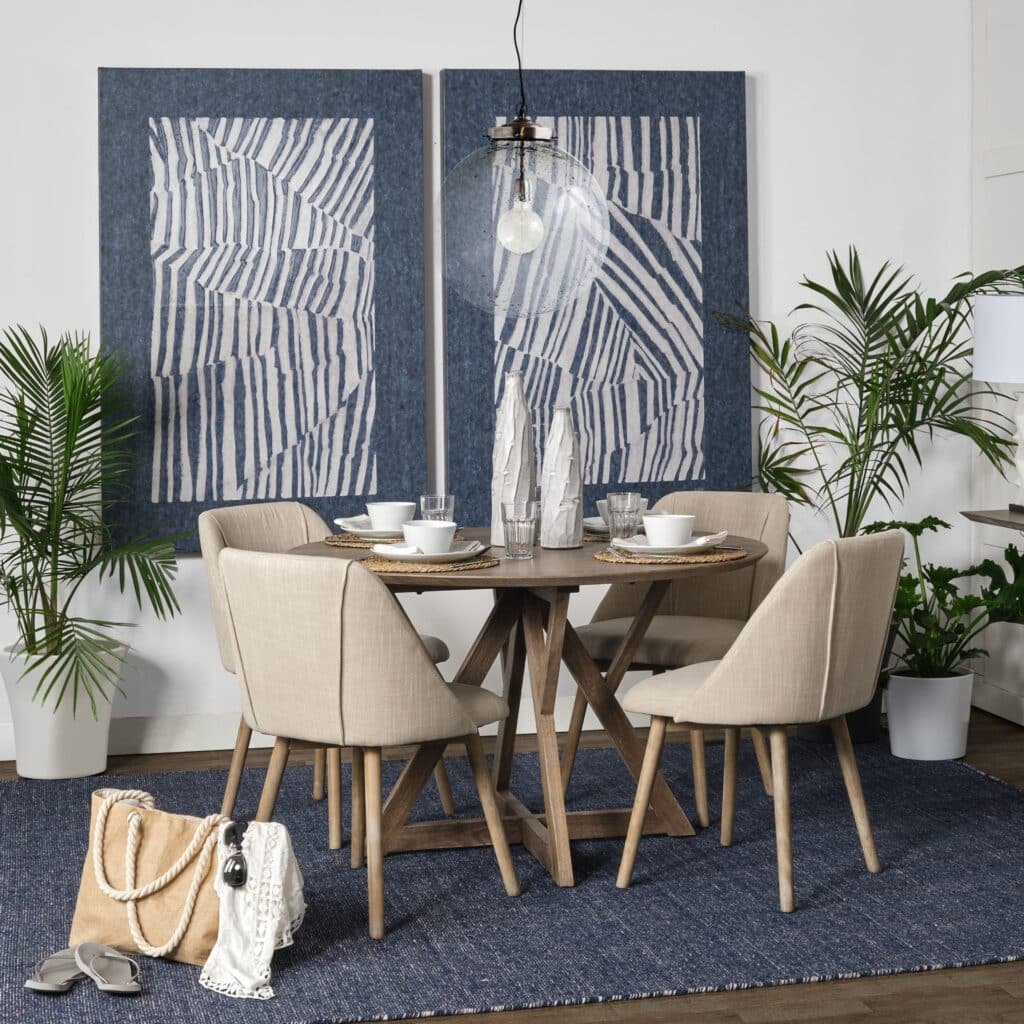 Brighten it up.
You've heard it time and time again: spring is the season of renewal. Summer 2022 seems like a great time to keep that energy and use it to your advantage in your home. One way to do this is by replacing dark colours with lighter ones. There are many ways to brighten up your home from the paint on the walls to the bedding and rugs!
Use light-coloured paint on walls or ceilings where natural light will fall through windows (like kitchens or bathrooms). Even when natural light isn't at its peak, this will help reflect light into those areas. If you're going to use an accent wall instead of painting all four walls, choose a neutral but bright colour, such as white or cream. These colours tend to reflect more natural daylight but also give off a warm glow that invites people into the room.
Another great tip is to opt for lighter-toned furniture pieces such as tables and chairs; they'll make spaces feel open while still feeling cozy enough when you are entertaining! They'll also make those rooms feel bigger since they take up less visual space than darker pieces do.
Add some colour!
If you like bright colours, embrace bright blues, cheerful yellows, verdant greens, and juicy oranges. Not only will these accent colours make your home feel cheerful and welcoming, but they'll also give it a fresh look that complements the warmer weather outside and gives your home a vacation vibe.
If you love soft colours, think of soft pinks and peaches, pale greens and blues, and gentle neutrals like cappuccino or honey browns. A room in neutral tones will always look fresh—you can change the rest of the décor seasonally by adding bright accessories such as flowers and wall art.
A soft colour palette is also ideal for dressing up a garden space. Throwing some colourful springtime accessories into your outdoor area will instantly liven up any corner of your backyard – especially if you have painted furniture that needs another coat!
Whichever palette you prefer, it's easy to use these accent colours as a way to refresh your space from time to time. For instance, If you have neutral furniture such as wood or light-coloured leather, consider adding a rug that incorporates one of these vibrant hues for a quick pop of colour that's sure to make everyone smile!
If you're not into decorating with rugs (or if your floors already get hot enough!), try adding accessories like pillows in complementary shades to your couch instead. It'll help liven up any room without making it seem cluttered with too many patterns. Let's face it: clutter is no fun when temperatures rise high enough that even staying indoors becomes unbearable sometimes.
Flowers are another wonderful way to add some colour to your home. Whether you have a few stems from a bouquet or invest in a curated arrangement of permanent blooms, having flowers in your space will usher in life and energy. They're also easy to arrange on shelves or tables. We love to scatter vases around the home to add splashes of colour without making a large financial investment!
Illuminate your space.
You can also add some light to your space by adding lamps. Lamps are a great way to provide a little extra lighting and create ambiance, especially if you're planning on having friends over or hosting a party. Lamps come in all shapes and sizes and are made of different materials like paper, fabric, glass, or plastic. Whatever your 'vibe' there is lighting that will enhance your home. 
From a statement piece to a tiny, delicate table lamp, nothing makes a difference in a room quite so quickly as lighting does. Opt for bulbs that give a warm glow rather than 'daylight bulbs' as they tend to give off a cold light reminiscent of office spaces.
Make your home a summer sanctuary.
So there you have it! It may not be New Year's, but with a little bit of creativity and effort, you can refresh your space and make your home feel like new again in no time!